Colors That Go Well With Indian Skin Tones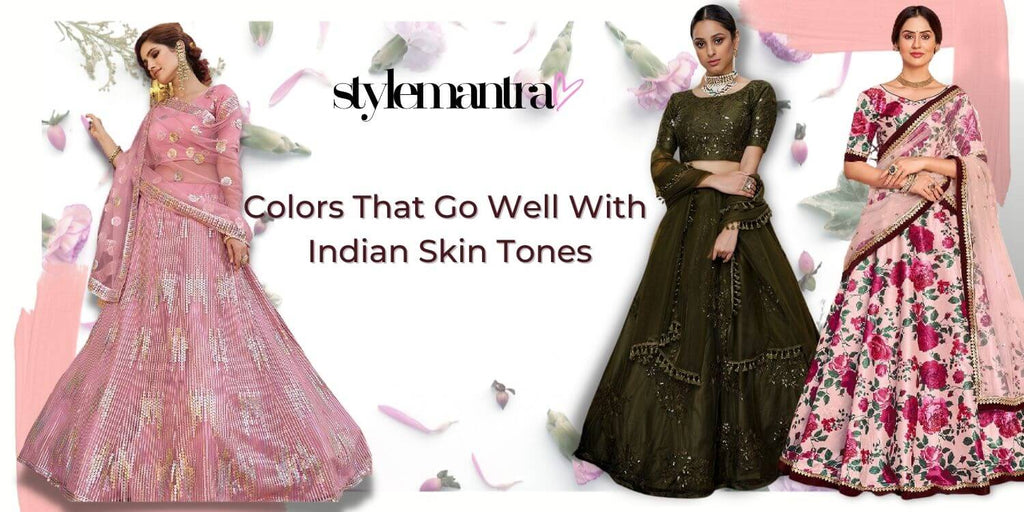 Skin tones play a significant role in determining the colors of outfits and the makeup you wear, or even the hair color you choose. These choices can either enhance your complexion or appearance or shadow it. Indians are blessed with fantastic facial features like defined eyebrows, big eyes, and superb skin tones.
Predominantly yellowish and olive undertones make most Indians look dusky rather than too fair or dark. Of course, there is a spectrum of brown skin tones in the Indian populace, which means there is no thumb rule regarding the colors that someone can wear.
Hues That Complement Indian Skin Tones Perfectly
The good news is that many colors suit most Indians regardless of the type of attire they wear. If you are updating your wardrobe, here are some colors to help you create the right impact. Although most of us like to play it safe, sticking to standard blues, reds, and greens, several other hues can also look fabulous. The colors listed below go well with most Indian skin tones:
1. Lilac
Lilac looks fantastic on people with fair to duskier skin tones because of its delicate hue and well-balanced cold and warm undertones. It's the perfect color to brighten up your mood on an otherwise dull day and looks terrific on traditional lehengas, palazzos suits, salwar kameez, and sarees too!
2. Mustard
Most Indian skin tones lean towards warmer undertones, making mustard ideal for traditional and contemporary wardrobes. Mustard yellow is the perfect shade- not too light, not too dark, but it flatters Indian skin tones. What makes the color unique is that it pairs very well with all types of silver and gold jewelry, commonly used to accessorize ethnic Indian attire.
3. Olive
This shade is stunning regardless of whether you wear it to an evening party or daytime event. It is neither too light nor excessively dark; its beauty lies in its subtleness, complementing Indian skin tones very well. Everything from net lehenga cholis or Dupioni silk sarees look superb in olive and many shades.
4. Sapphire Blue
This color sits at the cool end of the color spectrum. It looks exquisite and is incredibly easy to carry off. You can team a sapphire blue embroidered lehenga with an emerald satin choli in similar embellishments to create an impact like no other. Sarees in sapphire blue with sequins or zari work are a class apart.
5. Violet
This captivating color draws attention no matter which outfit it is used in. Complement your palazzo-style satin lehenga with a citrine or scarlet choli in net fabric with beadwork or intricate thread work. You will have an outfit to flatter your Indian skin tone amazingly well at any event.
6. Aubergine
It's a fantastic shade that seems specially made for Indian skin tones. Aubergine is essentially a purple hue that you can wear if you aren't particularly fond of maroon, brown. Aubergine salwar kameez, sarees, and lehenga cholis in silver zari work show off Indian skin tones flawlessly.
7. Emerald Green
Emerald green is royal, sophisticated, and luxurious, and it can elevate your appearance as no other color can. It looks great on Indian skin tones with golden yellow undertones. Pairing it with rich gold or silver embroidery or lace in a traditional Indian outfit can very well show off duskier skin tones.
8. Blush Pink
Although white is not widely used in traditional Indian clothing, blush pink is a hue that many women wear to weddings and other special occasions. It shows off darker skin tones to perfection and looks outstanding in net, satin, silk, organza, and chiffon too. This pastel shade is a hot favorite with women with skin tones ranging from dark to light, and you can combine it with darker pink hues.
9. Black
Black is stunning, demands attention, and can be a superb complement to Indian skin tones when used cleverly. Black silk and satin fabrics have a distinctive sheen with shades that change when light hits the pleats or when you move. A truly breathtaking color, black looks gorgeous on many Indian skin tones. Whether you choose to wear an over-the-top flouncy net fabric Bollywood style lehenga choli or an exquisitely embroidered art silk saree, you are sure to look like a diva.
Don't shy from mixing and matching colors in your outfits. Let your creativity run free, and try some of these stunning colors to find what appeals best to you. Regardless of your skin tone, the styling, and the type of Indian ethnic attire you prefer, you can find your dream outfits on
Stylemantra
. Select from a wide range of exquisite sarees, sequin embroidered or
stone embroidered salwar kameez
, stunning sharara or gharara style lehenga cholis, and more in every color and hue.