How to Apply Makeup for Ethnic Look: A Step-by-Step Guide.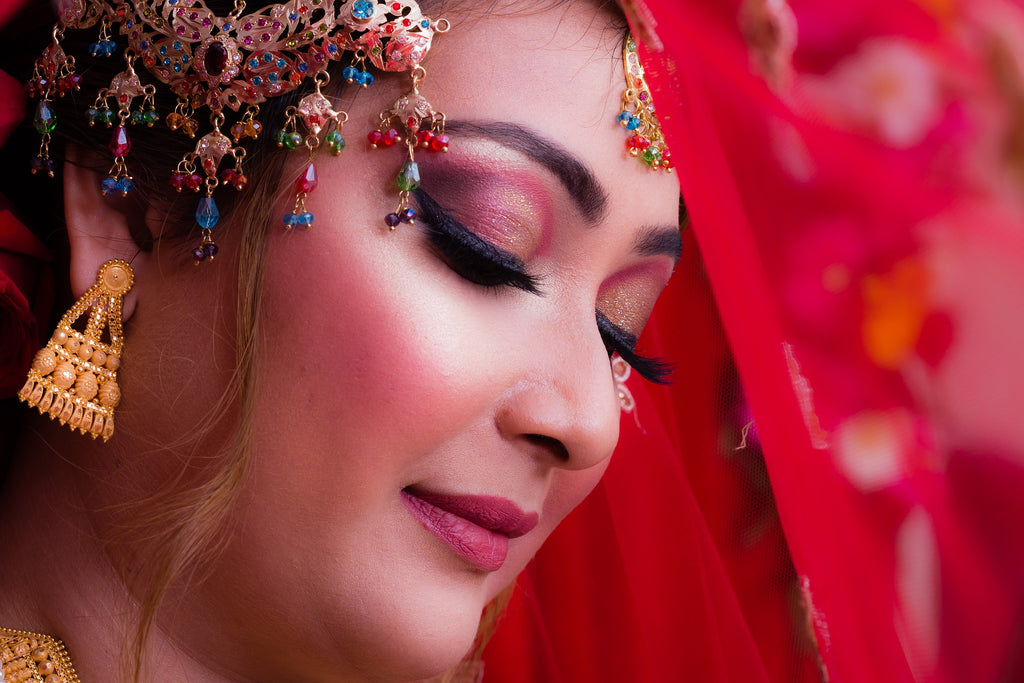 Hello, beauty! Your dazzling smile makes the world go round, and your sparkling eyes should be among the seven wonders of the world. 
You are beautiful- and you know it. It's all a gift from the universe. However, there has to be more, right?
That's exactly what cosmetics companies thought of; how to compliment your beautiful aura. Although makeup could be termed 'superficial', it's definitely a must-have in every woman's vanity bag. In fact, almost every woman knows how to have a makeover.
However, rocking ethnic makeup is an entirely different ballgame. How much is too little or too much? You wouldn't want your makeup to overpower the beauty of your dress, nor would you want it to be so little that it's barely visible.
This balance has to be maintained.
And, that's what we are showing you today. Asides from giving you Bollywood makeup tips, we'd walk you through a step-by-step approach to wearing your makeup with ethnic wear- whether it is a traditional saree makeup or saree makeup for a wedding!
Step 1: Prepare your skin
For wearing makeup- including an ethnic makeup- the first step remains to prep your skin for what would come on it. There are 4 major components of a good prep:
     

Cleansing

     

Toning

     

Addition of serum

     

Moisturizing
While some people would leave serum out of the mix, it is equally important as it helps to keep your face glowing and hydrated.
Step 2: Apply the primer and concealer
A concealer helps you cover up acne spots and dark circles. Be sure to use a concealer that is one tone lighter than your actual skin tone. The primer helps keep the makeup on your face for a longer period while filling up open pores. In doing so, it blends perfectly with your neck, hand, and facial skin; creating a gorgeous look on your face.
Step 3: Get your foundation base on
Here comes the hard part. You would want to be very careful when applying your foundation base- too little could make your makeup turn out unpolished, while too much could make you look like a clown.
First thing first, be sure to select the best foundation for you. You would want to go for a foundation that is closest to your skin color.
If you've got oily skin, use an oil-free liquid or a powder foundation. Here, you have powders that absorb oil, leaving you with a smooth finish. If you are susceptible to breakouts, use a foundation that contains 'salicylic acid'. For dry skin, pick a liquid, stick, or hydrating powder foundation.
In regards to application, if you are a novice, it's advisable to go for a powder foundation. It's so much easier to apply. Generally, you might want to opt for an anti-aging foundation with abundant sun protection (>SPF 20).
Once you've decided on the type of foundation, mix your foundation with a little bit of serum. Then, using a powder brush, apply it to your face in circles.
Step 4: Contouring and Highlighting
A little contouring would go a far way in enhancing the face structure and your saree makeup. Use a subtle contour for a day event, and a distinct one for an evening event. When highlighting, make use of soft tones of brushers.
Step 5: Eye Makeup
Your eye makeup is arguably the most important aspect of your ethnic makeup regimen. For a Punjabi or Bengali look, make use of dark eyeshades.
To begin with, apply your eye-shadow from your lash-line to the crease of your eyes. Then, using a coffee-brown eye pencil, line very close to your upper eyelashes. Do the same under your eye.
Now, shift your attention to your brows. Most people recommend the use of false lashes to enhance their volume and length. You would also want to apply waterproof mascara.
Step 6: Lips and finishing touches
Use the shade closest to your lip color and apply it. Then, take a lip color on your finger and stain your lip with it. Then, apply some gloss at the center of our lip.
In whatever you do, be sure to go bold with your lip makeup!
Conclusion
That's how to look ethnic and rock great makeup simultaneously. Bollywood makeup looks just great when you know the right procedure- and that's what we've shown you.