Must have Styles For Every Kurti Lover This Summer Season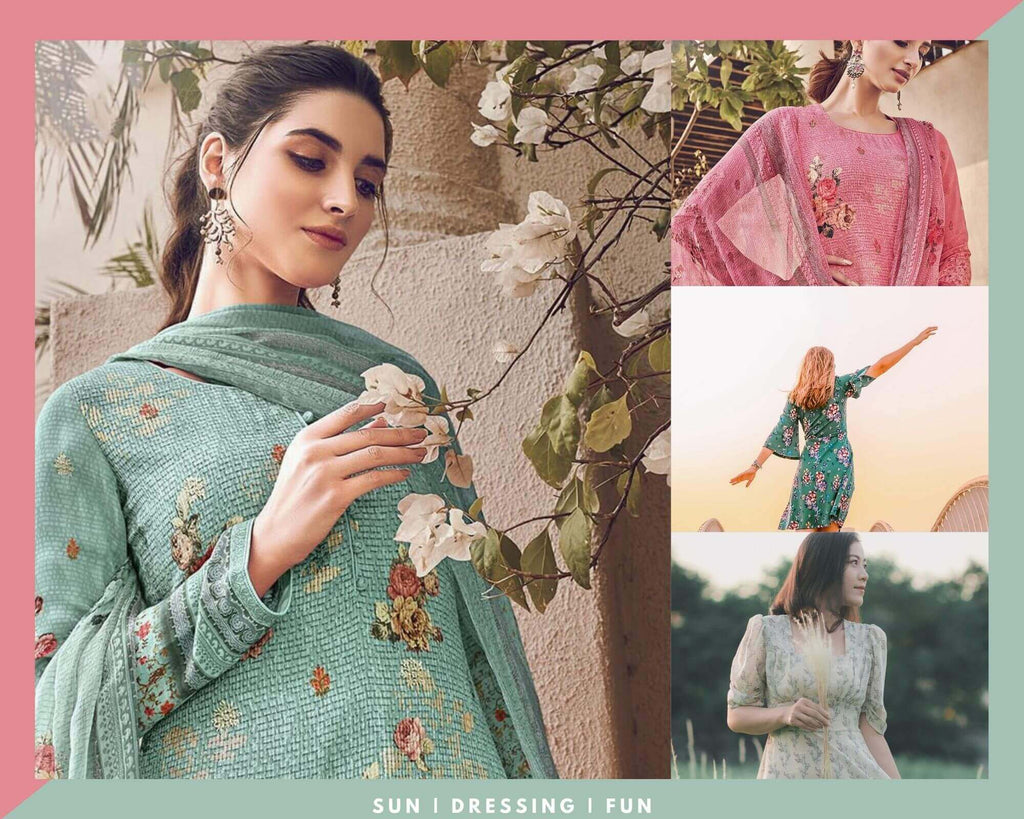 Are you ready

 

to flaunt the chirpy yet innocent side of yours? Ethnic is the way! Pick a Kurti to reflect your heart and soul and beat the heat like a fashionista.
With fashion evolving with each passing day, you cannot look stylish without upgrading your wardrobe. Kurti has come up as a contemporary version of the Indian kameez. It has a promising comfort element, along with the liberty of pairing it with assorted bottoms. The kurti is not only a perfect office staple and an easy-chic casual-wear alternative, but it is also a very festive-friendly garment. Undoubtedly, it is one of the best ethnic clothing.

So, wear your confidence with a stylish kurti from your fashion-forward closet with a dash of elegance, and get ready to rule Spring-Summer 2021!
Get
 

the 90s Look -

 

Angrakha Style Kurti

The "Angrakha style" name says it all. Being extremely famous since the '90s, the Angrakha style of Kurti has never gone out of fashion. While many designers have added some variations to the design, one thing that stayed the same is its charm!

Anyone who aspires for a chic and sunny look will prefer this kurti style. This feminine and stylish kurti looks best in floral summer prints and matched with a light dupatta, churidar bottom, and Kolhapuri flats. Depending on the design and print work, pick a pair of traditional earrings, and you'd be all set and dolled up to beat the heat in style.
The Majestically Flared Anarkali Pattern
Your adorable Anarkali suits have a cute sibling- Anarkali Kurtis! A super popular choice among women for generations now. It is a perfect attire for women of any age group because of its frock-ish pattern and flares. These tunics are super comfortable and look very graceful. They fit perfectly on any body type, so size never a worry.

Get a lovely light print Anarkali kurti and pair it with a palazzo or legging, nothing more incredible for that perfect summer ethnic look. Because it looks regal, it can be a good choice for any light occasion, and ensure you pick a print or embroidery pattern, depending on the event you plan to use it. Hurry now, stock up on a nice long cotton Anarkali kurti - StyleMantra has a lovely collection to add some color to your bloomy pandemic days. Time to face the heat in style!
Front Cut Kurti For a Unique Fashion Quotient
This is one of the latest trending styles in kurties lately. It looks stylish and helps put on that confident look. Pair it with pants or a palazzo for a new fashion fad. Pick some chirpy summer colors to brighten up the summer feel, and the style will take care of keeping you cool on hot days. Opt for light embroidery if you plan to wear it on a more ceremonious event.
Ikkat, Dijital & Geometric Print For a Bohemian Spirit 
Ikkat & Geometric print kurtis are in fashion nowadays. These prints are pretty traditional and look beautiful in cotton material. These patterns are so much into summer that they will uplift you as soon as you put it on. Nothing works better on a bright summer day than an elegant Ikkat print kurti or an attractive geometric pattern ethnic wear. Time to get your geometric print kurti and be summer-ready!
The Floral Print To Bring out Your Brightest Being
Hang on! No summer is complete without a floral print in your wardrobe. Florals personify feminine style and are a red-hot trend every summer. Wear a floral all-over printed kurti and team it with some solid bottoms, no accessories required. You already seem radiant and summer-fit. 
Kaftan Style Kurti For a Lively Summer Look
This pattern is more slanted towards the western look. However, it has made a noticeable spot in the most favorite Indian ethnic wear latterly. Whether you pick a full-length kaftan style kurti or a short one, it's loose-fitting with a fitted belt on the waist, gives you a tremendous delicate look overall.
Select a bright and light color Kaftan kurti to complement your wardrobe this summer.
Unconventionally Modern Peplum Style
The frock-style silhouette is another easy-breezy variant that you can pick for this summer. It is best known for its hourglass frame impression and comfy dimensions, making it perfect for hot days. Wear longer ones for a Bohemian vibe and short styles to keep it more stylish.
Pair these Ethnic style peplum kurties with your favorite pair of denim or cotton pants, not to forget a dhoti pant if you want some spicy fusion. That said, you are way too perfect for pitching any summer occasion or even a casual meeting.
Magically Monochromed Style
White and black can look astonishing on any silhouette. Nothing beats this polar attraction formula. Blend these shades in the way of prints or patterns or cuts. The result is a winner! Monochrome kurti works best with a bright contrasting shade such as electric blue and red, or fuchsia. Team it with legging and create a color riot.
Flow in Pleasing Pastels
Summers beckon for flowy white and pastel colors. Put on sexy chiffon or georgette pastel kurti for that easy and happy look that flatters and adds to your vogue. Get a lovely color-blocking kurti in pastel color combination, and it will escort you through any formal or casual moments.
The Chicest Asymmetrical Hemline Pattern
Hemlines, cuts, and drapes have become the most wanted details that most fashion-forward women seek. This style is appreciated for its flirty yet graceful flowy cuts, making it a classy composition. Wear an attractive asymmetrical trim kurti as a standalone dress, or pair it with a slim bottom like the leggings or churidars. 
Wrap this look with a sassy belt and transform it into an entirely different concept! The choice is all yours. This style makes you look thinner too!
Cuteness Oppressed with a Short Stylish Kurti 
This one works best with pants or denim. It's a top cum Kurti that can be buttoned up or down to suit your needs. You can even pair it up with shorts or a skirt for a more boho look.
Keep it Mild With an A-line Kurti
Are you looking for something light and breezy to keep you cool during a hot summer day? An A-line Kurti will do the deed for you. It is a popular style among every generation. An A-line kurti that reaches the calf or ankle and has flares from the waist down is more than perfect in giving you that unprecedented ethnic feel. This being one of the most common styles, is easily available in the market in different styles, colors, designs, and fabric. We, at Stylemantra.com, stock some quirky varieties too.
Style your A-line kurti with pants or a palazzo and close your summer appearance. Long A line kurties have additional perk of making you look a bit taller. 
So,
"When in doubt, wear a Kurti!"
Most women nowadays prefer kurtis over complete sets,they are easy to manage, match them up with any type bottom, and it is a new look every time.
Contemporary kurti styles are classy and give an exquisite twist to the ordinary appearance. Up your fashion sense this summer by trying some bright and new pattern kurtis from our latest collection, and surrender your grace like confetti!