Latest Wedding Wear Styles for Indian Brides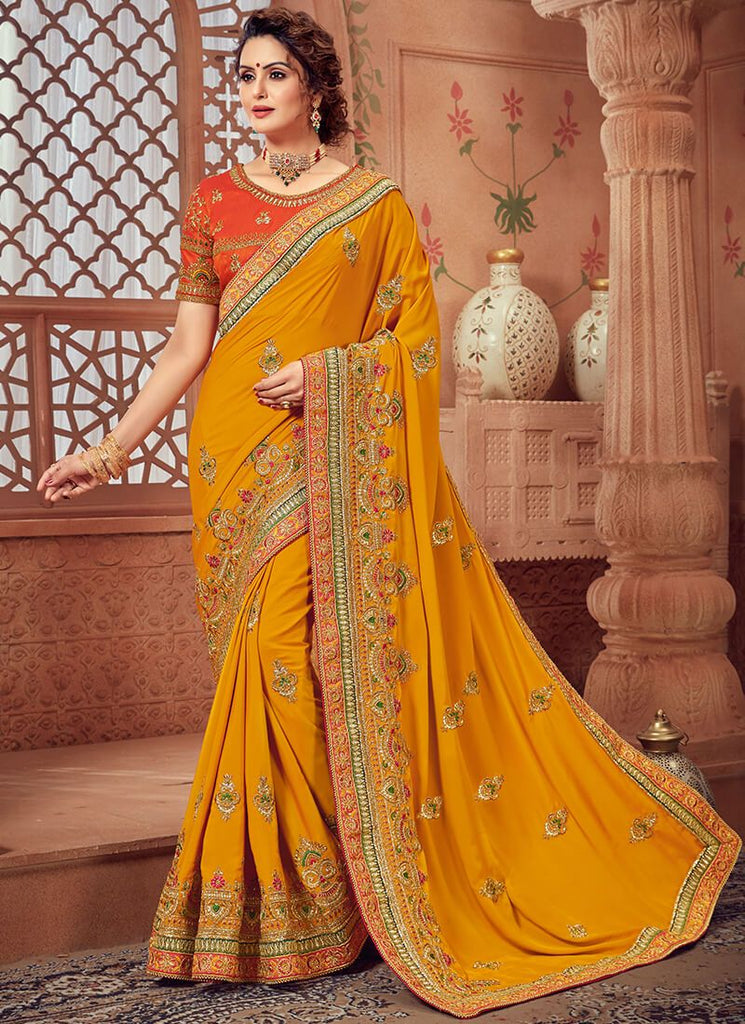 Every Indian bride has the dream of hosting the most breath-taking wedding ceremony; with the best outfits- of course. With the chant of diversity in the air, Indian women have chosen to free themselves from the shackles of their traditional wedding dresses and dive into the cultural wear of neighboring states. How does that sound? A sprinkle of uniqueness? Exactly! That's the whole essence.
Do you want to rock something unique on your wedding day? Do you wish to go beyond the monotonous traditional wedding attire of your family and wear a dress explicitly different from your family brides? If yes, keep reading.
Here are the latest wedding wear styles for Indian Brides:
Mermaid Cut Wedding Gown
If you want to be the sexiest person at your wedding, while staying true to yourself, this dress is for you. Regardless of your preferred style, the focal point of a mermaid cut wedding gown is its dramatic skirt and ever-flowing train, giving both your entry and exit a breath-taking moment.
Mermaid gowns are usually tight at the top half, while the lower half widens out as it caresses the floor. From sexy and dazzling to silky and simple, this is the perfect silhouette to flaunt your shape. This dramatic gown balances on your top-half, giving you a fabulous hour-glass shape. Moreover, this fish-cut dress is one of the most sought after Indian wedding attire.
If you want to truly knock-out your guest, adorn your gown with a glitzy belt to highlight your waist.
Are they modern? Perfectly so! If you are concerned about blending into the contemporary age, mermaid wedding dresses are the perfect fit. Although this is modern, it could also act as a bridge between the past and the present. For instance, blending an antique lace and other nods with this dress would be perfect for a classic look.
Pastels
The average Indian bride is looking to break free from customs without qualms. Who wants to be limited to red, pink, maroon, and magenta again? Not an Indian bride. Today, most brides do not like dark red colors anymore. Luckily, pastels help break the norm
Yeah- pastels are in vogue today. Rightly so, the perfect partner to elicit the beauty of these pastel shades are the materials of net and mirror work. Some of the trending pastel shades include lavender, sunset yellow, beige, peach, mint green, and turquoise. Any of these colors are sure to keep you unique on your special day!
Also, bold mirror works do not counteract or overpower. They are perfectly in tune with each other. A great reason to rock a pastel dress!
Anarkalis
Originating from the Indian subcontinent, Anarkalis were popular in the Mughal era. The name 'Anerkalis' was derived from a fictional character 'Anarkali', who was the beautiful courtesan of Akbar.
Although they have their roots in ethnic symbolism, Anarkalis have transcended all barriers to become a famous wedding attire. Regardless of your shape or size, Anakalis do a great job in complementing your body with such charming grace. Also, there are many styles of Anarkalis suits- meaning, you've got a variety to choose from.
Pick your taste:
Double-layered anarkali.

Cold shoulder Anarkali suit.

Anarkali with a long jacket.

High-low Anarkali suit (…this is the preferred choice for wedding ceremonies)

Tiered pattern Anarkali suit.
Anarkalis are also flexible. They can be used for pre-wedding and post-wedding ceremonies, as well. Who said you should look amazing only on your wedding day? Try them out!
Blue's taking over the town!
You might have heard the saying- blue is the new red. And, it sure is. Indian weddings might have signed a pact with the color- red. However, it seems that the pact is being broken by new-generation brides.
Why choose red when you can look elegant with other colors like blue? Why blend with the old when you can hop on the new?
Sprint towards a regal look with the help of a royal blue perfect wedding dress! Would you love to add embellishments and embroidery to your dress? A blue dress would bring them out more; keeping you sparkling throughout your special day.
Pretty in Pink
A trend in colors! The relationship between pink and brides goes a long way. Pink isn't just feminine- it is also a symbol of romance and tenderness; the perfect representation of a wedding ceremony.
When it comes to pink, you've got endless options. From flowy gowns to pretty pink silk sarees to heavy bridal lehengas made in a pink hue, you don't have to be confined by a type of dress. Also, you can choose from a variety of pink shades- baby pink, hot pink, fuchsia, and more.
In Conclusion
Your wedding has to be colorful- it is a must! Hopefully, this article has dropped ideas in you on how to bring your dream wedding to reality.