Dressing Up for the Nine Most Eventful Navratri Days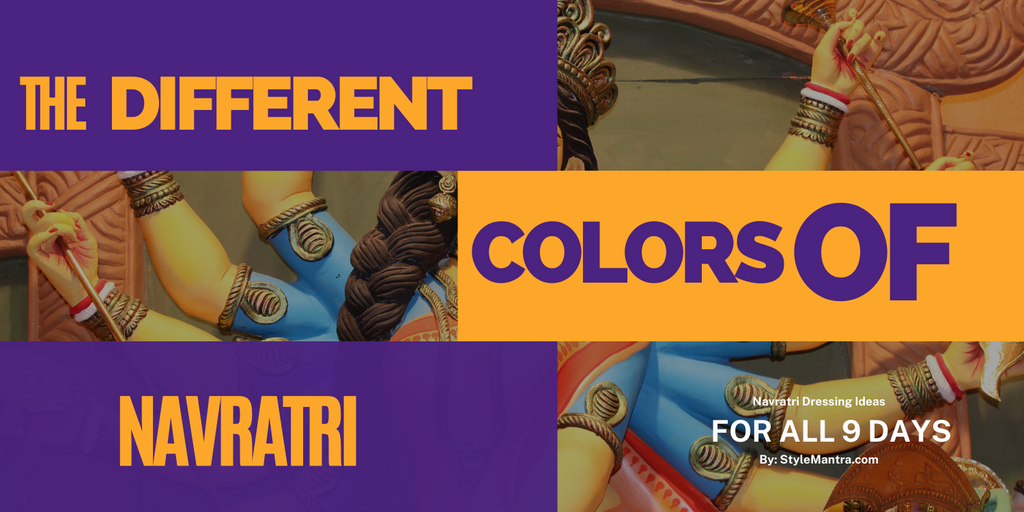 During the Navratri, worshippers pray for 9 days to Goddess Durga. Goddess Durga has 9 forms. These are Shailaputri, Brahmacharini, Chandharghanta, Kushmanda, Skandamata, Katyayani, Kalratri, Mahagauri, and Siddhidathri. The days also signify the 9 colors dedicated to Goddess Durga. 
You will see vibrant colors, decorations, and designs all around during the Navrati celebration. Continue reading to know the significance behind these colors. 
Day 1: Orange - The Happiest Color That Exists
The first day of Navratri will be celebrated in orange. Shailputri is a goddess who represents warmth and vitality, and this color is dedicated to her.
It resembles the color of blood in its symbolism, which is significant. It's also worn to obtain the goddess's blessings. The color blue is connected with a variety of warm hues, including red and yellow.
To seem fashionable, wear an orange lehenga or salwar suit on this day. Since it is the first day of the Dandia nights, you want to make sure you look nice and feel comfortable in whatever you choose so that you can put on a good performance. At Stylemantra we have some great suits and lehengas in Orange color, check them out now!
Day 2: White - There is Best Variety In This Color
Day 3: Red - Nothing Can Grab Better Attention
On the third day of Navratri, the color red is ideal. This hue is dedicated to goddess chandraghanta.
The color blue stands for action, and it is frequently used to ask for the health of one's body, mind, and spirit. It also denotes bravery and may be worn with vibrant shades like blue or green.
Red is the most popular hue in fashion. A simple red lehenga or a basic red slawar suit will look just perfect. On the third day of Navaratri, you can wear whatever you want because you're wearing the most magnificent hue imaginable, and everything appears to be wonderful in red.
Day 4: Blue - The Color That's Beyond
Day 5: Yellow - The Perceived Color of Sunshine
The fifth day of Navratri is marked by the color yellow. The Yellow represents divinity and is worn to pray for a better life, making it a great way to flaunt this color on the fifth day.
On the fifth day, Devi Skandamata, also known as the Daughter of the Mountains, is worshipped. She has a goldish yellow complexion and hence people use yellow to pay homage to her.
Yellow is a must-have hue in ethnic ensembles, and it may be found in everyone's closets. Flaunt a yellow lehenga in gorgeous mirror or exquisite embroidery work, or a more subtle yellow suit. Dance away the fifth day of Navratri, shedding light like the sun.
Day 6: Green : The Color of Energy and Positivity
Green is worn to commemorate the sixth revival of Goddess Durga, Katyayani. The hue also signifies rebirth and development in all aspects of our existence, spiritual, mental, and physical.
Green is one of the most important colors in terms of fashion. There are thousands of different shades of green, which is one of the most popular colors worn in ethnic outfits.
To celebrate the sixth Dandia night, wear a beautiful green lehenga, a suit, or even a green mirror work saree in lehenga style. If you want to look nice while still feeling comfortable, use a lighter fabric and limited jewelry.
Day 7: Grey : The Color of Truth
On the seventh day of Navaratri, a grey hue is appropriate. This color is dedicated to Kalratri, the goddess of lightning. The color grey is associated with destruction and negativity in life. It also indicates self-discovery and spiritual enlightenment.
In terms of fashion, grey is one of the most current hues. A grey ethnic costume is a contemporary style these days and goes well with vivid colors like orange, pink, red, and even blue due to its subtlety.
To commemorate your seventh dandiya evening, pick a grey lehenga with some beautiful bright floral accessories. A grey Anarkali will also look fantastic. Because you can wear a saree in so many different ways, a grey saree worn in Lehenga style is an extremely fashionable option.
Day 8: Purple : Everything Appears to Be Better in Purple
Day 9: Pink : This Color is Attitude
The color pink is associated with the ninth reincarnation, Siddhidatri, which is represented by this hue. This shade is commonly linked to femininity and love. The pink shade of the Lotus is associated with the ninth incarnation of Devi, Siddhidatri, which means "born from a lotus."
Since it is the final day of the dandia nights, you want to look your absolute best, and there is no better option than pink. Pink hue is completely associated with ethnic clothing; without it, ethnic outfits can not exist.
Wear a lovely hot pink lehenga and rock the last night of Navratri to the fullest.
Finally, you'll know more about Navratri's 9 days and the meanings of the colors represented for each day. StyleMantra has an amazing range of affordable ethnic wear collections for you to pick from, do not hesitate to reach out to us we provide expedited shipping and custom fitting options too.
I wish you all a great Navratri and I hope that you're well prepared to rock the Dandia floor!