Silk Lehenga- A Must Have for Ethnic Wear Lovers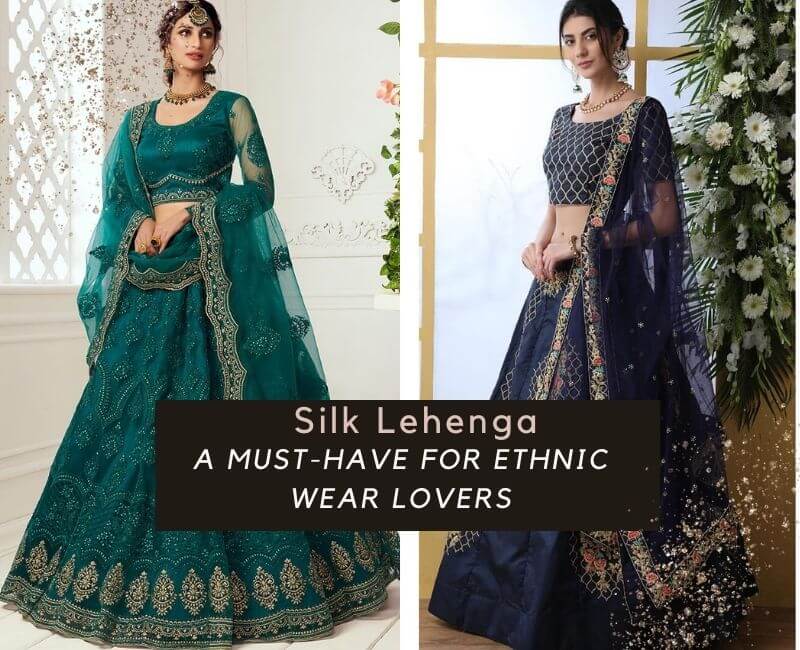 Silk is naturally one of the shiniest materials known to humans. It produces sumptuous outfits, especially lehengas.
Most ethnic Indian women, desire bridal lehengas that feature both modern and traditional designs. Typically, silk material generates the most fashionable yet classic lehengas that are perfect for numerous occasions.
Best Silk Lehenga Choli
If you are into ethnic wear then Silk Lehenga is the best choice for you. The notion of traditional art and design accompanied by a strong silk material will surely make you stand out on any occasion.
South Indian silk lehenga mainly consists of an exquisite and heavy embroidery sequence art. This type of lehenga makes a perfect choice for summer weddings and events. Another type of lehenga is Banarsi silk choli that serves similar purposes to the South Indian lehenga. Banarsi originated from the ancient city of Varanasi. It's globally known for the making of high-quality and gorgeous silk lehengas.
Other types of silk lehengas consist of gorgeous and sophisticated colors including red, pink, green, white, blue, yellow, and black. These colors can enhance the exterior beauty of any woman and make her stand out amongst a multitude.
If you want to capture skillful and traditional intricacies, then opt for Pure, Banglori, Bhagalpuri, Bangalore, Raw, Brocade, and Designer silk lehengas.
Silk Lehenga Ideas for Modern Brides
It is indisputable that weddings are the most special occurrences in any woman's life. This is why every woman goes for the most fashionable bridal outfits in the market just to capture outstanding moments.
For a contemporary woman, silk lehengas are the best option since they are simple and breathable yet contain a traditional design. You can try going for well-stitched lehengas that are embroidered subtly, as they are simple to move around with.
There are so many ideas to wear silk lehengas during modern weddings. For example, try pairing different hues like a fuzzy pink lehenga paired with an orange dupatta. Another alternative is to add multiple colors to your bridal outfit. For example, if you have an ivory lehenga, try adding a blouse with a cantaloupe tulle Corazon cutwork dupatta.
Conclusively, you can try out different styles like off-shoulders, hipster looks, draped designs, and more. Moreover, pairing your bridal wear with jewelry will be an added advantage to your overall look.
Silk Lehenga Types
With so many silk lehengas in the market nowadays, it can be difficult for you to choose the best one. This is why we've made a list of the top 5 best silk lehengas for a modern woman. They include:
Embroidered Silk Lehenga
We have often seen or worn embroidery on lighter fabrics like cotton. But nowadays, the luxurious silk fabric with thread embroidery is the new drift. It is popular amongst Indian brides as a wedding outfit.

The luxurious embroidery on the silk fabric of this lehenga makes it perfect for grand occasions. However, the bulkiness and discomfort that can come with more elaborate designs may not be ideal for events where you'll have to sit through long hours in your outfit. So, for best results when wearing this dress style, opt for a more straightforward design with minor embellishments depending on what kind of event you're attending!
Raw Silk Lehenga
The raw silk lehenga has a super flared out and stiff design that is perfect for narrow-built girls. It's also extremely shiny, making it ideal bridal wear.
The raw silk lehenga is also perfect for someone who wants to wear a heavy outfit without compromising on comfort levels. The fabric is much lighter than other silk versions. It is glossy and rich even though it costs a little less than other silks. 
Banarasi Silk Lehenga
The Banarasi silk is a classic fabric that has been worn for centuries. Of course, this fabric demands extra care, but the simple designs and glossy material make it worth investing in this timeless fashion statement. One thing you can count on with this clothing—it will never go out of style, and you can wear it many times at different occations!
Cotton Silk Lehenga
This beautiful lehenga is both soft and rich in material. It has a silk and cotton composition that creates a perfect fit and fall for any body type. The fabric is light and comfortable apart from being rich and shiny, making it an excellent option for the brides.
With limited embellishments, it can make a nice outfit for lighter occasions and even casual parties. Generally paired with heavy crop tops, it is one of the most modern lehenga styles.
Net and Silk Lehenga
The final design on the list is a silk lehenga with a net fabric on top. With a hint of traditional style, this lehenga provides quite a contemporary appearance.
The net is a great fabric to go with embroidery and embellishments, so silk being the base adds that extra luster to the overall outfit. This style has been evolving with different combinations of net and silk but it has been there for a very long time. You'd never regret investments that you make on net silk lehengas.
Conclusion
If you desire a more sophisticated look, try pairing your silk lehenga with gold or gold-coated jewelry. It can elevate your style and make you look elegant. Whether you'll be wearing it for an engagement or a Mehendi ceremony, you'll surely find one that fits the occasion.