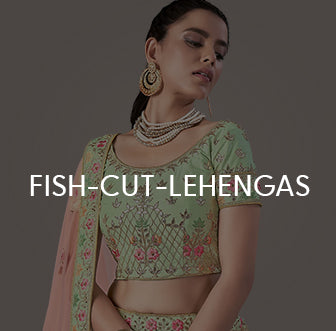 Fish Cut Lehenga Collection
Featured

Price, low to high

Price, high to low

Alphabetically, A-Z

Alphabetically, Z-A

Date, old to new

Date, new to old

Best Selling
Light Pink Multicolor Embroidered Silk Lehenga
Light Pink Multicolor Embroidered Silk Lehenga includes an art silk top with santoon inner, art silk lehenga with santoon inner and net dupatta. Zari, thread, sequins and stone work are used for the embroidery of this style.
Light Beige and Pink Organza Lehenga
Light Beige and Pink Organza Lehenga includes an organza blouse and lehenga with santoon inner alongside a soft net dupatta. Foil mirror, zari, zarkan and thread work are used for the embroidery.
Light Peach Heavy Embroidered Net Lehenga
Light Peach Heavy Embroidered Net Lehenga includes a velvet blouse and a net lehenga alongside a net dupatta. Embroidery is present on this style using thread and dori work.
What is A Fish Cut Lehenga?
With traditional wear looking utterly amazing and elegant, this perfect attire is the fish cut lehenga choli, popularly known as mermaid cut lehenga choli. It is a style of Lehenga attire that originated from the ancient Mughal period. It is now an attire that ranges from bridal wear, traditional clothing, party popper, and designer wears.
Fish cut lehenga choli designer wear is one of three pieces containing a choli (the blouse), lehenga (the skirt), and the dupatta (like a scarf usually worn or draped across the shoulders). The lehenga is a skirt that hugs the body on the hips, highlighting the body shape, displaying long legs and pronounced feminine attributes. It is fitted till knee-length, accentuating curves of your hips, then flows down with a flair till ankle length from below the knee. It is called fish cut or mermaid cut because it is cut and tailored to resemble a fishtail. It is also referred to as Jalpari lehenga.
The Fish Cut Lehenga is the favorite wear of Indians as it is gorgeous and stylish; it has proven to be a masterpiece over time as the style can be used for the latest bridal lehenga to trending party wears. It is a must-have for all women, be it bride-to-be, married women; it is perfect.
It fits every design from cotton lehenga choli, brocade lehenga choli to a chiffon lehenga. It is decorated with costly embroidery, rich zardozi, sequins, stone works, and other works, paired with either modern Indian jewelry or traditional Indian jewelry. This classic Indian lehenga choli exalts the craftsmanship of Indians, resulting in a beautiful and mystical mermaid-like couture, perfect traditional wear with an elegant touch of modern couture signature.
Buy Fish Cut Lehenga Online
Style mantra, your first online shopping portal is all set to deliver fish cut lehenga choli in elegant traditional but marvelously fashionable designs. This innovative, spectacular and imperative clothing is made available across international cultures in an affordable price range, unique designs, quality, and exquisite designs that will put a graceful, stylish look on every woman. It is available in different styles and patterns as it is a trending fashion statement piece due to its modernity. Moreover, this Lehenga Choli can be paired with lovely accessories to stun the world with prudence.

So order your fish cut lehenga choli now and cherish truly exotic wear. Have a lovely, convenient shopping experience.